2023 Mission Trip Dates: TBD
Memphis Mission Trip – Praying Pelican Missions
July 27th – August 2nd, 2019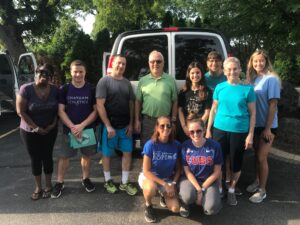 And They're Off!
The Crossroads Memphis Mission Team of all generations heads out to share the love of Jesus!

Sunday Worship
The message and worship were amazing at the host church where the team stayed.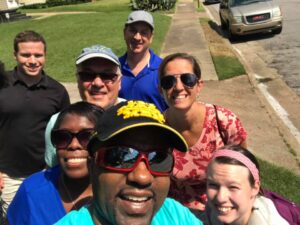 Sunday Prayer
The team spent time in the neighborhood praying for people, and took a beautiful prayer walk over a bridge that connects Tennessee and Arkansas.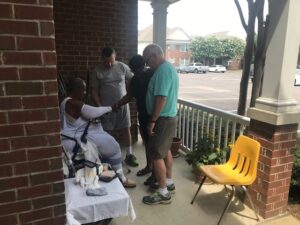 Meals on Wheels
The day was spent delivering lunches for Meals on Wheels to people in need in Memphis. An amazing opportunity to talk to and pray for the community.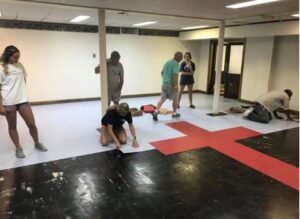 Church Beautification
The team helped with prepping and tiling the floor in the Fellowship Hall of the host church.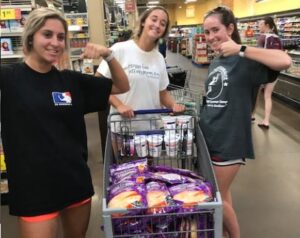 Shopping for 200…
The girls went shopping…800 tortillas, 25 pounds of meat for tacos, lettuce, cheese…the works. Prepared a meal to feed 200 at a homeless men's shelter
Rainbow Rehab Visit
Visiting the residents at Rainbow Rehab and Memory Care Center. Lives were transformed this week…the team is blessed and excited to share those stories with you.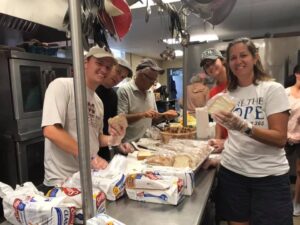 Serving Many!
The team made over 200 sack lunches plus a hot meal to serve at a soup kitchen and Calvary Rescue, a men's homeless shelter.