Parenting With a Purpose
Parenting With a Purpose was a casual event for parents to discover how to bring spiritual purpose into their homes. The 3 P's of parenting include: Plan, Practices, Purpose. Parents learned how to develop a plan, and in the last workshop completed their plan to implement in their homes for the 2022-2023 school year.

Back to School Blessing
Each year we pray a blessing over our students, teachers, admins, and parents as they start the new school year. It's such an exciting time for the kids as they return to school!

S3-Second Saturday Serve
Thank you to all who came out for our S3-Second Saturday Serves this summer! We visit and eat a small wrapped breakfast snack starting at 8:30am, then serve by packing food boxes and/or completing a project to help those in our community from 9:00am-10:00am. The whole family is welcome!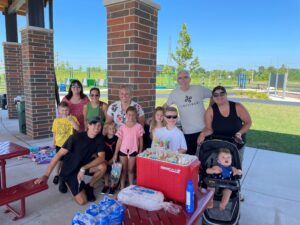 kidTown Popsicles in the Park
Our kidTown K-5 Grade Students were brought by parents to Wolf's Crossing Community Park to hand-out popsicles to people at the park. This was a great outreach into the community and the people enjoying the park that morning got an added splash of Jesus in their day!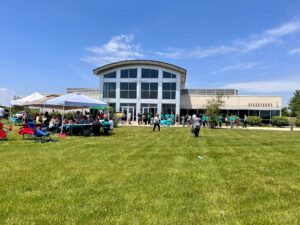 Crossroads en Español 1st Anniversary
We were so excited to celebrate the 1st Anniversary of Crossroads en Español! We are all ONE CHURCH/UNA IGLESIA!! It's been such a blessing to welcome so many new faces/families into our Crossroads family! We look forward to seeing what God will do with this ministry in the coming year!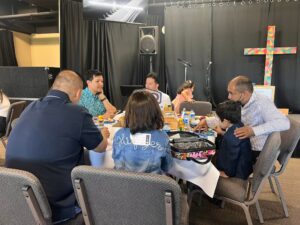 kidTown Donuts with Dad
Father's Day is always an exciting time as we invite our Dads to join their kids in kidTown for a service. They enjoyed a devotional, activities, and DONUTS!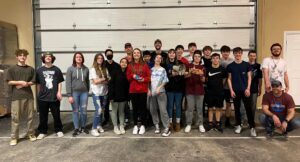 HS Dodgeball
Our High School students had a great time coming together for a fun evening of dodgeball! It's always a good time when pizza and friends are involved!

WLW Warrior's Retreat
Our Women of Crossroads met in the Worship Center for an impactful time of worship, reflection, and teachings on Truth. They were empowered and equipped to become the women God created them to be! This retreat included a large group Bible teaching, breakout sessions from various teachers, a keynote speaker ~ Pastor Caleb Lantz, and worship led by Crossroads' very own band. It was a beautiful day all the way around!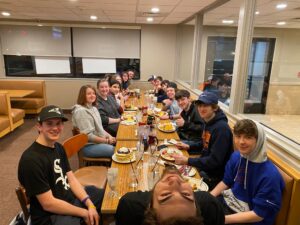 HS Harbor After Hours
Once a moth our High School Students have a hangout time after Harbor on Sunday nights where they can enjoy community, laughter, and special time with their friends and leaders.

kidTown Chalk Wolf's Crossing
Our 2nd-5th Grade students went across the street to write words of encouragement on the sidewalks of Wolf's Crossing Elementary School to bless the teachers and students that were starting school there in the coming days!

Outdoor Summer Baptisms
God gave us a beautiful afternoon for 11 people of all ages to choose to get Baptized…all RAISED INTO NEW LIFE!! Thank you to everyone who came out to support each of these brothers and sisters in Christ! What an amazing visual of the support God has in place for each of us! Awesome afternoon glorifying God!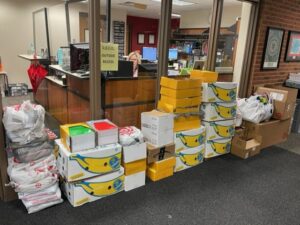 School Supply Drive
This year's School Supply Drive brought in a big haul! Through everyone's generosity we had a grand total of $7K donated via Shop-n-Drop (local) & Click-n-Ship (online) to bless 9+ schools and hundreds of local students! Loving well!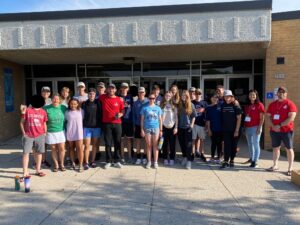 HS Summer Mission Trip
Our HS Mission Trip to Sheboygan, WI, gave our high school students an opportunity to participate in a week-long mission trip. On this trip they worked on some home repairs, did a TON of scraping and painting, as well as deepened their faith and their relationships with God & each other. It was truly a life changing experience for many of our students!

S.O.N. Missional Serve
Crossroads volunteers served 40 hours in one Missional Serve Week this summer, partnering with 5 different humanitarian and ministry organizations to reach out and love well in the name of Christ. We made home repairs, spent time with the elderly, fed and brought hope to the homeless and hungry, supplied the impoverished, and engaged underserved children.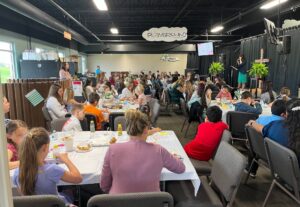 kidTown Muffins with Mom
On Mother's Day we like to invite our kidTown moms to join their kids for a service so we can spoil our moms with a devotional, geared toward them, activities/crafts with their kiddos, and MUFFINS!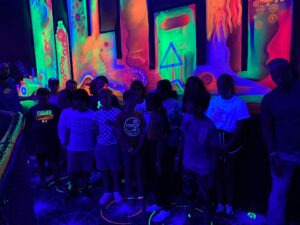 MS Galaxi Fun Zone
Our Middle School students had an absolute blast at Galaxi Fun Zone! They had glow-in-the-dark high-ropes course, go-karts and laser tag! Such FUN!!

Easter Sunday Services
Our Easter Sunday Services are some of our favorite services of the year! It's always such a beautiful, joyous time as we celebrate our RISEN Savior!!