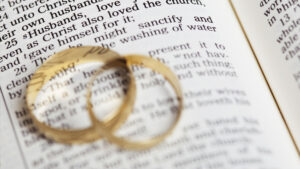 It is a great honor for us to participate in the magnificent Christian ceremony of the uniting of one man and one woman, as created by God, in marriage. So you think you and your sweetheart might like to get married? Wow—pretty exciting stuff! We want to ensure that you have a good idea of what Christian marriage is really all about.
Marriage by Crossroads
Pastors love performing marriage ceremonies! The mood is happy, and it's an awesome privilege to be a part of God's work in joining a man and a woman together for a lifetime partnership. Sometimes, you even get to see some really crazy stuff happening with everyone's emotions running so high.
Marriages are fun…but marriage is also something we take seriously because God does. Make sure you read what we believe about marriage (under "
Doctrinal Matters
").
There are some things we'll ask you if we all agree on performing your Christian marriage ceremony. You can read all the details by downloading "
Congratulations you're getting married…
"
If you've read all of the info but still have questions please contact Crossroads Church Office at
630-585-7777
.